HUSBAND DOES NOT RECOGNIZED HIS WIFE, AFTER A WORKSHOP
Grooming is very important and is simply one of those things that there is no excuse not to take time and effort with.  It makes you feel good and boost confidence. If you feel good on the outside, you'll feel good on the inside. If you feel good about yourself, your attitude towards people and your work will be better.  To be able to function and fit in in today's society, you must make sure your personal grooming is up to standard. Job opportunities, relationship possibilities, and invitations to parties and other social events are all inextricably linked to how you present yourself to the world. Thus, if you are self- groomed and know the perfect way to carry yourself, you will have a lot of eyes attracted to you. Self grooming is also one of the most important parts of personality development.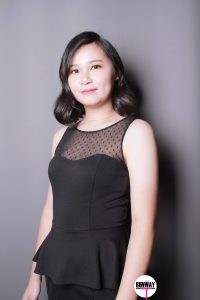 And personal grooming matters especially for women as it creates an impression of who you are. Many women fall into the trap of letting themselves go and as a result forego making any sort of effort to fix themselves up.  A lady should never think she should not be concerned about her looks just because she is not going to step out from the house too often! Women as they age, especially moms, housewives and middle aged women, start to feel invisible.  Appearance and polishing your personal style is crucial… because frumpiness is the fast track to invisibility.  All women are blessed with beauty, charm and elegance that no other creation has, but the problem is women are more prone to make the beauty disappear by not taking proper care of them, especially the housewives. They fail to make time to treat themselves with the attention they deserve in hectic routines, and stressing while taking care of home and family. They lose the natural beauty due to lifestyle, unhygienic atmosphere, unhealthy food, stress and exhausting schedules. The sooner a housewife realize how much important is personal care of self grooming is the better it will be.  Grooming is not merely cleaning oneself or taking a shower regularly. It involves taking care of each body part that reflects your personal hygiene and how well you maintain yourself to have a pleasing appearance.  Just because a woman begins to age does not mean she has to throw in the towel in terms of beauty.
Find your good dress sense, style & wardrobe management
Dressing is an extremely important part of self grooming. A lot of people do not understand the importance of dressing according to the occasion and thus, often find them as totally mismatched with the crowd. The way you dress is the first thing that gets noticed about you. Thus, dress appropriately always. If you are in a corporate meeting, wear a formal suit. If you are out partying, wear something that is fun and different and if you are out partying with friends, wear something that is relaxed and easy. If you dress appropriately, the first signal that you send out is that you understand social norms and also believe in impeccable sense of style.

Also, many women feel embarrassed by their bodies. Senior women in particular are prone to hiding the extra pounds that they may have put on. Unfortunately, baggy outfits often make such women appear years older than they actually are. Contrary to what you might think, tighter-fitting clothing will make you look thinner and more fit, regardless of your body shape. You don't need to jump into a skin-tight leotard, however! Instead, choose clothing that fits you well and accentuates your best physical features.  Be realistic about your body shape. Don't torture yourself by forcing your body into clothes that will not suit and fit you. Appreciate what you have and dress to highlight your figure, you are guaranteed to look better this way.

Accessorizing is yet another part of being dapper and smart. Wearing the right accessory will accentuate your look. On a day out working, a watch that makes a statement of its own is the best accessory. Proper emphasis should also be laid on the shoes that you wear and the bags that you carry.
Makeup & basic hair styling
The second thing that one should take care of is the finer details like the makeup and hair. These are the part of your body that gets noticed. Like there is a proper dress for every occasion, there is also a proper makeup and lady hairstyle for every occasion.

Keep in mind the difference between day makeup, night makeup, and special occasions. Day makeup is light and tinted with neutral colors. Night makeup is more strongly tinted but never very heavy or caked on – use stronger colors.  Makeup is something that can look different for everyone. Some people can pull off a dramatic eye look, while others may think that it looks ridiculous on them.  Find out what makeup suits you best and can boost your confidence.

Your choice of hairstyle can really transform your look, and your haircut, can also showcase your personality and who you are to others.  The truth is, hair really does make a huge difference. I don't think anyone can deny that.  Certain hairstyles suit certain looks or outfits. When considering what to wear, you usually think of how to wear your hair as well as accessories like what shoes, handbag and jewellery to choose.

Good posture, walk with poise & confidence, walking with high heels & pose confidently for the camera
What does it really take to be beautiful? DO we really need to look like a model? The honest truth is NO!
Beauty is more than just the perfect hairdo, makeup, and clothes. Yes, those things help make a woman look good. But beautiful has a class of its own – a class a woman like you can achieve.  Of course, looking good can help as you make your way toward being beautiful. So here are some tips to get from looking good to becoming beautiful.  The idea is for you to be able to walk down a street without shuffling your feet and with your head bowed down as if apologizing for your existence. Good posture is indeed vital!  Push your shoulders back with your head resting squarely on your shoulders and stride! Walk as if every hall you pass is a runway – because it is.

So what constitutes a well groomed woman?  Runway Productions by Catwalk Guru has the answer for you. Our foremost Catwalk Guru, Benjamin Toong and his team of professionals will coach you through our 'Queen Workshop' grooming course,  the essentials and grooming tips to become a well groomed woman and to achieve your desired appearance.  Everyone, no matter how old they are, wants to look nice and feel good about themselves. There are many things a woman can do to improve her appearance and to help her to feel more self-confident.  Sometimes small things can make a big difference.  The way we look largely affects our feelings and self-confidence.  Today, it is quite in to be the sexy older woman and there are many ways of going about doing this. If you have been really down on yourself lately because you have let your appearance go due to age, then our Queen Workshop can help you to make a few subtle changes that will go a long way.  We will help you to develop a good fashion sense – your own sense of personal style which suits you! Learn to transform day to night hair styling. The aim is to match and look great from head to toe. We will teach you facial expressions, along with stylish and confident poses for the camera – techniques for everyday people and capture the beautiful you in pictures

If you wish to embark on this self improvement journey for yourself, or make a present or gift to your wife or mother to have them look more stylish and chic, then sign up for our Queen Workshop.  Come indulge yourself, your wife or your mom in our women's grooming course and make yourself or her a better person every day.  Learn those skill sets which will go a long way!